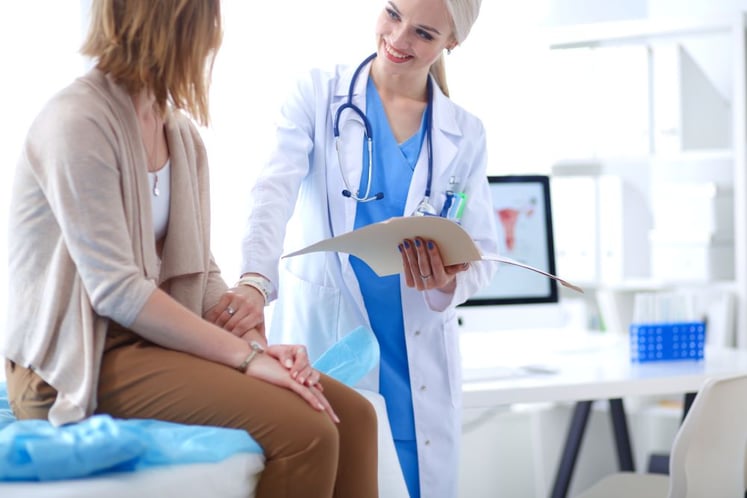 The medical industry has kept pace in adopting recent technology trends in Automation, Internet of Things, and Edge Computing. Medical carts are a good example of how computing capabilities are introduced closer to the user to improve performance and efficiency. Medical carts are commonly used in emergency rooms, treatment rooms, or immobilized patient rooms. This translates into better care for the patients and doctors being better equipped to administer treatments and access information. However, medical carts introduce several challenges when sourcing hardware for the required computing capabilities. In this blog post, we will cover some of these challenges.
Space constraints
Medical carts need to be portable and offer maneuverability. These carts need to store medicines and equipment. Therefore, space constraints require adding computing capabilities that can adapt to the smallest possible footprint. All-in-one computers become very handy for these applications. They do not require peripherals, and the monitor and CPU work together within the same chassis. In addition, AIO computers are more convenient than laptops, as AIOs do not require space on top of the medical cart. Furthermore, AIOs are designed as a complete system which will work seamlessly. This will also facilitate inventory management as you will need to manage only a single device instead of two or three different devices in each cart.
Processing capabilities
Most medical devices undergo certification processes to prove they are safe to use around or in patients. These processes are expensive and time consuming. When sourcing computers for medical carts, you need to clearly define the required processing capabilities to run the applications in a typical operation. Once you have determined the minimum required processor and RAM, you need to look at the life cycle of the AIO. Is the manufacturer including a 5 or 7-year cycle or just the standard 2-year commercial life? Hardware manufacturers can guarantee longer life cycles by leveraging version control. Moreover, in medical cart applications in which you are creating a completely new design, it could make sense to add the latest processor available in the market with the largest amount of RAM to make sure your customer will have room to grow, and that the hardware will be able to support updated or new apps and software. Consequently, the chosen AIO will leverage the most recent and powerful processors to make sure you can process diagnostic images while using other apps required for treatment and patient information now and in the future.
Latest PCAP touch and gloved-touch capabilities
Projected Capacitive touch technology (PCAP) was first adapted by the consumer/ commercial market in the early 2000's. Because of its optical clarity compared to resistive touch, PCAP touch technology started to win over many medical applications. PCAP touch differentiates itself by offering, for most applications, dual touch, rotation, zoom, flip, and multi-touch of up to 10 fingers. By changing the principle from surface capacitance to projected capacitance, this technology enables a touch point by a finger, with or without thin latex gloves, and passive stylus sensing to be projected accurately and reliably through layers of glass. This is important because in the past most workers could not keep their gloves on to obtain an accurate touch on the screen. In the medical and industrial fields, using gloves is a mandatory and fundamental security measure. The improved algorithm on PCAP touch controller firmware enables the touchscreen manufacturer to be able to tune the projection field for different applications, thus enabling medical workers to keep their gloves on while using the AIO of the medical cart. Finally, PCAP touch provides the clarity of optical performance and improves the contrast ratio compared to the traditional resistive touch.
Design and customization
Ergonomics is key in the medical industry. In regular office applications, users can be expected to sit down at a certain angle and distance from the monitor. In contrast, in hospitals, clinics, doctor's offices, medical staff will sit or stand by the patient's bedside while using medical carts for diagnosing or treatments. Since not all medical carts will have the same size or footprint and not all medical staff will have the same height, you will need to source AIOs that can adjust to different mounting options or allow a certain level of customization.
In terms of the design, you might prefer to source an AIO computer with a slick modern design that will match modern designs and colors. Or you may want to find a hardware manufacturer that can match the medical cart design in the AIO including its materials, colors, and brand name. If you want to read more about determining the best display for medical applications, visit this post.
Certifications and security
When sourcing computing capabilities for medical carts be sure to research the minimum requirements in terms of protection, certifications, and security. Most medical carts will be installed in environments that may require some level of physical protection against harsh environments. In the case of medical carts, you may want to source AIOs with front IP65 protection against dust and water ingress for easy sanitization purposes. In terms of certifications, any computer installed in medical equipment will need to comply with the IEC 60601 standard. This standard provides overall requirements in terms of basic safety and essential performance to make sure that electrical, mechanical, or functional failures are not a risk for patients or medical professionals. Finally, most medical carts will be installed outside restricted areas where different medical professionals will have access to them. This can create a security concern which can be easily addressed by using simple hardware security features and/or incorporate an authentication protocol for accessing the unit. If you want to read more about cybersecurity and hardware, visit this page.
If you want to continue reading about hardware for medical applications, please visit this page.