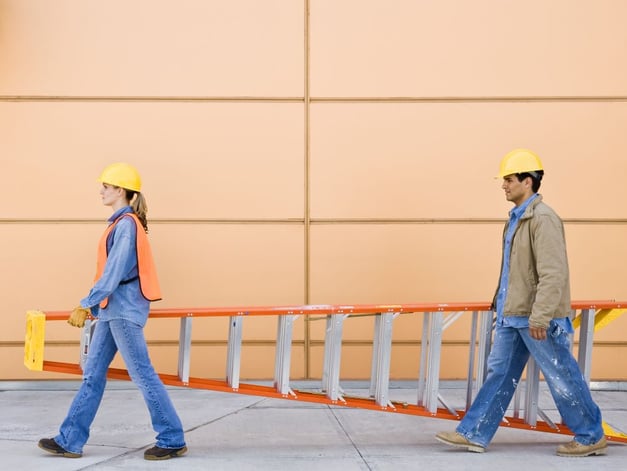 Are you an enthusiast of DYI home repairs or renovations? If you are planning to renovate the kitchen or bathroom or if you have a garage full of tools, this article might interest you. When you are doing home repairs at some point you need help from another human being. It is usually due to security reasons. Just think about the last time you went to the roof to change some tiles. Did someone hold the ladder as you went up or down?
Well, that is exactly how designing and planning a new embedded system or single board computer should work. You should find a business partner that will hold your ladder while you focus on solving problems for your customers. An experienced hardware manufacturer will provide the foundation for you to consistently grow your business.
How can the hardware manufacturer hold your ladder to success?
This is particularly important nowadays due to current market conditions. You are probably suffering the consequences of component shortage, supply chain issues, price increases, and logistics delays. Let's look at the details of what you need to look for in a hardware manufacturer.
Budget
Fist, an experienced hardware manufacturer will grow a strong and reliable network of providers and business partners who can offer high quality and certified components at best price. Second, a hardware manufacturer with a strong team of engineers will help you analyze your processes to find ways to reduce expenses when going to mass production. You can safely rely on your manufacturer to help you meet budget allocations and financial objectives.
Time to market
Developing technological solutions takes years. These projects require significant capital expenses and long times to market. Therefore, you want to make sure that all those efforts are leveraged when it is time for mass production. If you have a strong hardware manufacturer by your side, they will help you design and plan the solution including the time to market, even with the current issues as a result of the pandemic.
User experience
You don't need to be an expert on hardware to make sure your solution will meet your customers desired performance and functions. You can rely on the hardware manufacturer to guarantee hardware compatibility with the software and overall system.
Jump to mass production
When you start designing your solution, you build a specification matrix to detail the required features for each element. Then, you add standard products that fulfill those requirements. At this point, you will be sourcing standard products (like Jetson Nano, Intel Nuc or Raspberry Pi. You can read more on this blog.) to create prototypes. However, this is a good time to research hardware manufacturers that can provide custom solutions for when you are ready to make the jump to mass production. Some manufacturers can help you source the off-the-shelf products and provide design services for the initial stages. This will facilitate the transition to mass production because the manufacturer held your ladder starting at the earlier stages.
Lifecycle management
Finally, you want to make sure the large initial capital investment lasts. Consequently, you need a hardware manufacturer that can manage the lifecycle of your hardware solution. You need a partner that can guide you through certification processes and help you manage end of life procedures. In addition, you need a company that can provide replacement solutions while redesigning the next generation product.
Each time we use a ladder, the person that holds the ladder at the bottom provides a secure environment for the worker on the top. You cannot be at two places at once to reach the same level of security. This is exactly what happens with an OEM and a hardware manufacturer when designing and building a new product. Your effort should be concentrated on solving the customer's problem, instead of the single board computer or embedded system design. You should partner with a trustworthy hardware manufacturer for that.
How can you select the best holder for your ladder? You need an accountable, strong person with proven experience. Well, this is not different from selecting the best hardware manufacture for you application.
If you want to continue reading about SBCs and embedded systems, you should check out this page. You can also read our blog post about how to achieve success when selecting the hardware for your embedded system.